Sustainability
Environmental Management
Climate Change / Energy
Overview
Carbon Risk & Opportunity Management
Perspectives and Approaches Climate change is a megatrend that is changing the paradigm in all corners of society and many global companies are looking to enhance their competitive edge by actively responding to the climate change issue. We recognize that responding to the climate change issue and conducting carbon management activities pose both risks and opportunities for our business. We are focusing on establishing a strategy that will minimize the business risks and turn climate change into a positive opportunity.
System and Process
POSCO has built an internal system for identifying, assessing and analyzing the risk and oppor-tunity factors associated with climate change. The risks and opportunities identified are organically linked with our ent-erprise-wide risk management system in accordance with our risk management rules. The risks and opportunities thus identified are analyzed in various perspectives. The results of such analyses are reflected in POSCO's medium and long-term strategies. It is stated in POSCO's investment management rules that if a business plan could result in environmental risk, such as increased GHG emissions, personnel must consult with a relevant department specializing in the area. The results of such climate change response activities are reported through the annual POSCO Family Environmental Management Committee meeting chaired by the CEO. The enterprise-wide CO2 and energy indices are shared through the monthly Management Meeting. Information about POSCO's efforts in carbon-related risk and opportunity management are transparently disclosed to the public through a third-party-verified Sustainability Re-port, business reports and public notices.
Governance to Respond to Climate Change

Major Opportunities Related to Climate Change

Opportunities associated with climate change and carbon management activities also fall mainly into physical factors and policy factors due to domestic and foreign carbon regulations.
Increased energy use due to changing natural environment and severe weather such as heat waves and freeze can also lead to new business opportunities. POSCO is undertaking the sea forest restoration project using Triton1), a product made from steel slag, to restore coastal areas affected by whitening caused by rising sea temperatures. In 2014, Triton was authorized by the Ministry of Oceans and Fisheries to be used in the artificial fish reef projects. We expect to be able to officially use Triton in future projects conducted by the central and municipal governments. Also, we are planning to spread the POSCO Green Building, which employs more than a hundred eco-friendly technologies, as a model for energy conservation building.
Meanwhile, low carbon technologies and efforts to reduce indirect greenhouse gas emissions also pose opportunities for creating profit. High-strength steel sheets that save weight of vehicles, and blast furnace slag that replaces eco-friendly cement material have already become POSCO's new sources of income. In addition, owing to stricter environmental regulations in China, some steelmaking companies purchased FINEX, POSCO's unique eco-friendly technology and are preparing for construction. Meanwhile, other companies continue to benchmark POSCO's environmental management activities, and we expect there will be demand for environmental and energy conservation technology in the future. In other areas, under the Korean government's projects for enhancing energy efficiency and expanding renewable energy, we expect to be able to continue to expand the Smart Industry2) demonstration project, fuel cells and solar power business, ESS3) and Microgrid4) business.

Triton: Mythological Greek god of the sea that calls fish and dolphins by blowing on a twisted conch shell like a trumpet. He has the ability to restore sea forests. It is also the brand name for the low-carbon artificial fish reef using steel slag as aggregate.
2) Smart Industry: The goal of Smart Industry is to increase energy efficiency, reduce production cost and stabilize facilities by combining various energy sources at the steel mill with advanced information technology.
3) ESS (Energy Storage System): An ESS stores surplus energy produced at the power plant to be supplied during temporary power outages.
4) Microgrid: An independent power grid that enables a small area to be self sufficient. It is a next-generation electrical system that fuses and combines renewable energy and ESS.
Risk & Opportunity Management Process for Carbon Management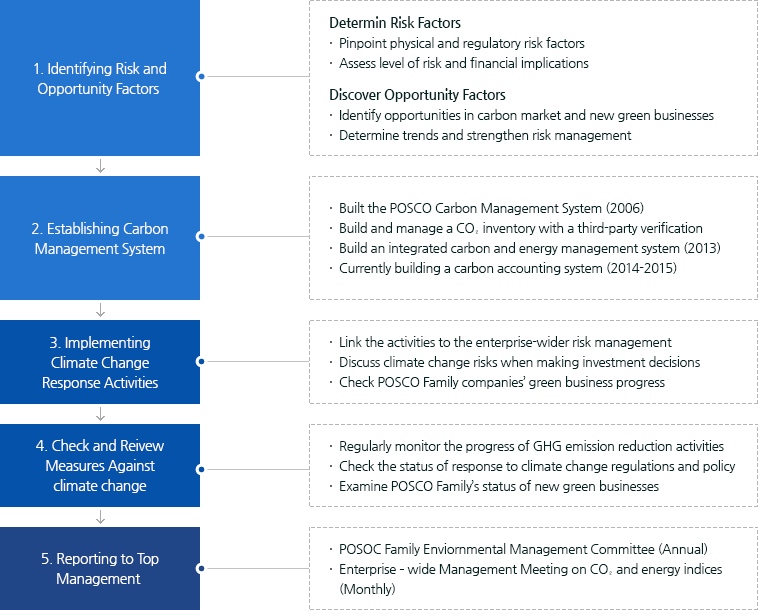 1.Identifying Risk and Opportunity Factors

Determin Risk Factors

Pinpoint physical and regulatory risk factors
Assess level of risk and financial implications

Discover Opportunity Factors

Identify opportunities in carbon market and new green businesses
Determine trends and strengthen risk management

2. Establishing Carbon Management System

Built the POSCO Carbon Management System (2006)
Build and manage a CO₂ inventory with a third-party verification
Build an integrated carbon and energy management system (2013)
Currently building a carbon accounting system (2014-2015)

3. Implementing Climate Change Response Activities

Link the activities to the enterprise-wider risk management
Discuss climate change risks when making investment decisions
Check POSCO Family companies' green business progress

4. Check and Reivew Measures Against climate change

Regularly monitor the progress of GHG emission reduction activities
Check the status of response to climate change regulations and policy
Examine POSCO Family's status of new green businesses

5. Reporting to Top Management

POSOC Family Enviornmental Management Committee (Annual)
Enterprise - wide Management Meeting on CO2 and energy indices (Monthly)
Risk & Opportunity Factors in POSCO's Carbon Management