Sustainability
Customer
Marketing Strategy
SOLUTION MARKETING
Even good quality steel products cannot be chosen by customers if they are uneconomical, or inconvenient for consumption. POSCO pursues Solution Marketing which provides not only hardware -"top performance steel products"- but also accompanying software- "application technology" and "commercial support," so that the customer can use POSCO's products more easily and economically.
Background for Introducing Solution Marketing
Since 2007, POSCO has been undertaking the EVI (early vendor involvement) activity, whereby the company participates in the customer's product development stages, providing support in performance evaluation of the steel material and a variety of application technologies needed for the product manufacturing. For the purpose of maintaining its competitiveness in an ever more competitive market, POSCO began the full fledged implementation of Solution Marketing in 2014, which is an advanced form of EVI. Solution Marketing is in context with the conventional value competition activity in that it provides differentiated value to the customers by satisfying their potential needs. POSCO launched Solution Center, composed of large research manpower under the Steel Business Division, in order to successfully implement Solution Marketing. Solution Center is where systematic solutions are developed and provided to the customers.
Solution Marketing, Together with the Customer
POSCO held the Global EVI Forum under the theme of "From Steel Supplier, to Solution Partner," to explain solution marketing to more customers and strengthen the partnership between POSCO and its customers. At the event, CEO of POSCO introduced Solution Marketing to over 1,200 participants from more than 500 client companies, including domestic automakers, shipbuilders and home appliance manufacturers, as well as global companies such as Volkswagen and Nissan. Here, he delivered the message that POSCO will contribute to its customers' success and advancement by providing differentiated solutions. This event also provided an opportunity for POSCO to materialize the results of Solution Marketing by enabling the initiation of over a hundred technology cooperations and sales agreements with its customers.
Solution Marketing Concept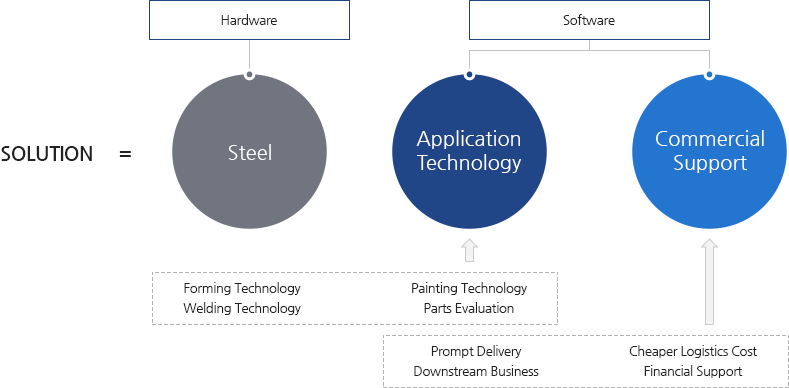 Major Performances in Solution
Marketing by Industry Sector POSCO has a differentiated competitiveness where the company provides a total solution that encompasses the development of high quality steel products, application technology and commercial support. POSCO will devote enterprise-wide competencies to further advance solution marketing, enhance the company's profitability and competitiveness, as well as achieve shared growth with the customers.
Enhanced Sales Competitiveness through Customer Satisfaction Survey on 7 Strategic Industries.
POSCO conducts a customer satisfaction survey each year to listen to customers' opinions on POSCO's products and services, improvements to be made and to enhance customer value creation activities.
For the survey conducted in 2014, which is the beginning year of "POSCO the Great", the survey method and questions were modified significantly. First, until 2013, the survey was comprehensive, but in 2014 the survey focused on customers in POSCO's 7 strategic industries - energy, shipbuilding and marine engineering, electric vehicle, high carbon steel wire rod, steel building material, and STS - and the questions were redesigned to focus on the customers, while also adding questions regarding solution marketing.
The 2014 survey was conducted between July and November, using the questionnaire and visitation interviews. Survey analysis results showed that domestic customers rated POSCO higher compared to other competitors, but overseas customers rated POSCO at similar level with competitors. In addition, both domestic and overseas customers both answered they have high demand for POSCO's solution marketing to enhance their competitiveness.
POSCO will turn the 180 customer needs identified through the 2014 satisfaction survey into tasks and concentrate on making improvements, through which POSCO will enhance its sales competitiveness and shared growth with the customers. In addition, the 2015 survey will be conducted in the same manner as that of 2014 that focused on the 7 strategic industries and will continue its efforts to listen closely to the customer's voice and discover their needs and improve them.
Customer Satisfaction Index
(Out of 100points)
Customer Satisfaction Index

| Category | 2012 | 2013 | 2014 | 2015 |
| --- | --- | --- | --- | --- |
| Combined | 85 | 84 | 79 | 80 |
| Domestic | 88 | 88 | 84 | 85 |
| Overseas | 81 | 79 | 74 | 74 |
Marketing Training to Enhance Customer Value
POSCO built the training department within the Steel Business Division to enhance customer satisfaction and value. The training department coordinated 13 courses on product knowledge & job training; executives' special lecture on value sharing; and outside training programs on image improvement and enhancement of brand value. The aim was cultivating marketing personnel's competency in creating customer value and enhancing their marketing insight despite economic recession and cutthroat competition. Also, we invited sales personnel from customer companies and exporting companies to the steel works each month and conducted marketing training and e-learning programs to enhance their sales competencies and strengthen trust with POSCO. In 2014, the training provided was a one-time only event that did not consider the knowledge level and experience of the employees, and was limited in fully developing employees' competency. In order to remedy this, the product knowledge program was divided into three courses (basic, in-depth, and field OJT) in 2015 for short continued service employees of less than three years so that they can immediately utilize their training at the job. For employees holding posts, the courses on strategy/tactics, sales knowhow and special lectures, both internal and external, were offered so that all trainees, including general staff to management level executives, can share the head office's strategy and heighten the sense of crisis. Therefore, directly contribute to increasing sales and creating value.