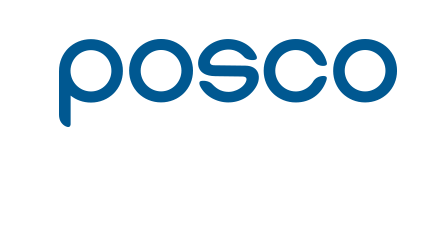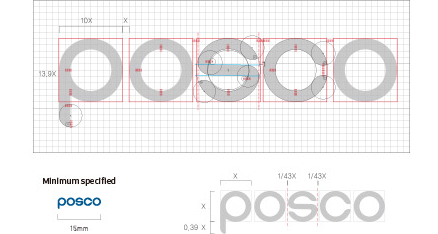 The balanced arrangement of five alphabetical letters of POSCO, with 'S' in the center, symbolically represents the corporate philosophy that aims for the balance of inside and outside, together with harmony. The concentric letters reflect the future image of POSCO that actively handles the external environment and sustains permanent development through constant innovation.
Basic space regulations The provisions are all practical use to be applied.
Confined space regulations The provisions are all practical use to be applied.
The light of Trust

The Graphic Motif, which is the design system developed to illustrate POSCO's differentiated and original brand identity and to effectively deliver POSCO's will with sincere 'trust', underscores the 'light of trust'. The Graphic Motif can be used in various forms according to the media being used, and copy texts and the logo can adhere to the Graphic Motif.
Graphic Mofif examples

Practical use regulations 01

Practical use regulations 02


Examples

Main Color

POSCO BLUE, soft blue color, helps to express POSCO, a company that is rich in cutting-edge technology and environmentally-friendly values.
Sub Color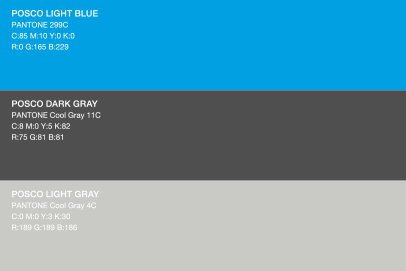 Provision of Background Color Application A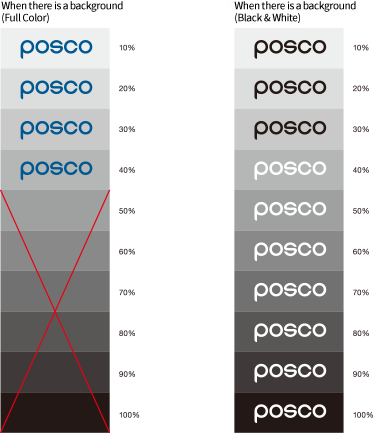 Provision of Background Color Application B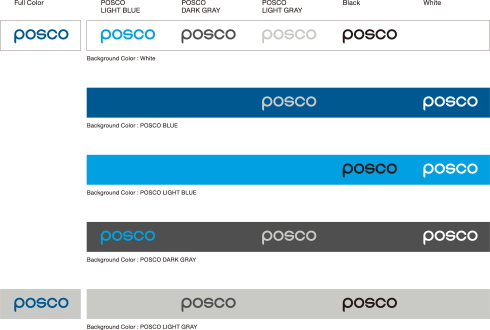 Border for the application to a watermark

Line from the handling of the case with the watermarks

Random variations on a case the size of the watermarks

If a tampered with the proportion in the watermarks

If tampered with the stuff of watermarks

If made at random the elements of a watermark

If you have to random variations on the spacing of the watermarks

When effects at random in a a watermark

Difficult background colors that are poured onto the identification of the watermarks

If applied on the complex images with the watermarks
POSCO creates a sense of unity among members of its company and aims for amplifying the brand value of 'trust' by using a consistent visual image among its 20 companies in Korea and 80 group affiliates overseas.
Signature_Domestic Affiliates