Company
Business Ethics
Major Activities
Operation of the Ethical
Management System

Operation of the Ethical Management System
Since it announced the ethical standards, POSCO has built global practice systems and infrastructure commonly used in the international community and taken all the necessary measures to operate and apply the systems.
Responsible team: 'Corporate ethics practice bureau'
POSCO established the Corporate Ethics Practice Bureau in August 2003 as an organization in charge of ethical management to allow the ethical standards to take root as a corporate culture as early as possible.
The major duties of the Corporate Ethics Practice Bureau include the drafting and implementation of related systems, supervision of the execution of ethical management including training, PR activities, and consulting, operation of the ethical practice program, and assessment of practice levels. Moreover, the company provides support to subsidiaries and outsourcing partners to expand ethical management.
Corporate ethics practice leader system
On August 20, 2003, POSCO established the system of corporate ethics practice leaders who play the role of practical ethics ombudsman and appointed 1 leader from each division and department.
The corporate ethics practice leaders assist the department heads in operating their ethics practice programs and engage in ethical consultations, distribution of related information and other public notices, training, and other ethical practice activities. The Corporate Ethics Practice Bureau holds new corporate ethics practice leader training and workshops and distribute related books every year to promote the ethical practice mindset among corporate ethics practice leaders while striving to revitalize their roles.
'Ethics Practice Program': stressing the autonomy and responsibility of each department
With awareness with respect to employees' practice of ethics expanding and taking root, upgraded ethics practice activities granting autonomy and responsibility to department heads with regard to the practice of ethics have become necessary. As such, the company has been operating the "Ethics practice program" since June 2005.
The "Ethics practice program" is an annual program wherein each department discovers and improves ethical risks related to business using the 6 SIGMA technique. In recognition of its contribution to the enhancement of ethical management and transparency under the "Ethics practice program," POSCO won the 6th Transparent Society Contribution Award (sponsored by the Anti-corruption & Civil Rights Commission and managed by Transparency International Korea) on December 7, 2006.
Main contents of ethics practice program per stage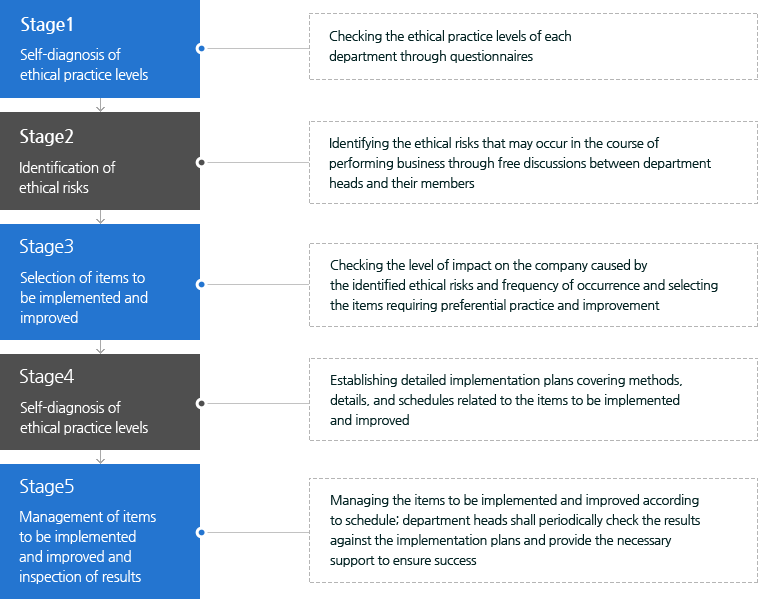 Stage1 Self-diagnosis of ethical practice levels

Checking the ethical practice levels of each department through questionnaires

Stage2 Identification of ethical risks

Identifying the ethical risks that may occur in the course of performing business through free discussions between department heads and their members

Stage3 Selection of items to be implemented and improved

Checking the level of impact on the company caused by the identified ethical risks and frequency of occurrence and selecting the items requiring preferential practice and improvement

Stage4 Establishment of implementation plans

Establishing detailed implementation plans covering methods, details, and schedules related to the items to be implemented and improved

Stage5 Management of items to be implemented and improved and inspection of results

Managing the items to be implemented and improved according to schedule; department heads shall periodically check the results against the implementation plans and provide the necessary support to ensure success
Corporate ethics Helpline - Hotline
POSCO operates corporate ethics Helpline and Hotline through which counseling and reporting related to ethical standards can be requested via the company website, email, telephone, or fax. These lines can be used not only by POSCO directors or employees and interested parties but also by the general public; confidentiality is fully guaranteed for whistleblowers. POSCO prevents unethical acts through counseling and whistleblowing system and takes the lead in practicing corporate ethics through two-way communication.
Helpline

080-577-6262
080-575-6262
POSCO Corporate Ethics Practice Bureau, POSCO Center, 892 Daechi-dong, Gangnam-gu, Seoul (Zip Code: 135-284)
Helpline

080-390-3366
080-391-3366
Head of the POSCO Audit Office, POSCO Center, 892 Daechi-dong, Gangnam-gu, Seoul
Sexual harassment Helpline
POSCO operates a sexual harassment Helpline to create a sound organizational culture; counseling on preventing sexual harassment may be received through email, telephone, or other appropriate means
Helpline

080-066-8585
080-575-6262
POSCO Corporate Ethics Practice Bureau, POSCO Center, 892 Daechi-dong, Gangnam-gu, Seoul (Zip Code: 135-284)
Establishment of POSCO-style ethics practice evaluation model
To establish the strategic development directions of future ethical management by comprehensively assessing the corporate ethics activities carried out to date, POSCO has developed a "POSCO-style ethics practice evaluation model" and surveyed the "POSCO ethics practice index" through an external survey agency. This survey was conducted covering many interested parties including POSCO customers, suppliers, and directors or employees. POSCO shall make continued efforts to ensure co-existence with all interested parties and grow as a trusted, respected enterprise.