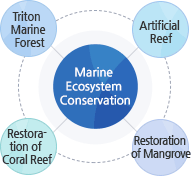 Marine Protection Activity
POSCO understands the importance of conserving bio-diversity. Acknowledging that bio-diversity may pose a risk to our business, yet at the same time acknowledging that it offers the opportunity for us to improve our competitiveness, we have built a strategy and pursued a variety of activities in cooperation with the government and communities both at home and abroad. POSCO focuses its energy on activities to protect the ocean, restore the maritime ecosystem and purify the sea.

Triton Marine Forest
POSCO developed an eco-friendly steel slag 'Triton' as part of efforts to protect bio-diversity, a key factor behind the restoration of marine habits. The main material for Triton is steel slag, a steelmaking by-product, which is richer in calcium and iron than other aggregates are. It stimulates the growth and the photosynthesis of algae and purifies contaminated seawater and sediments. In addition, a marine forest with Triton is capable of CO2 fixation produced from slag carbonization and seaweed photosynthesis, which can help recover marine resources like algae, fish and seashells which can suffer from rising sea temperatures over short timeframes. POSCO's Triton was presented as best practice at the 2012 World Conservation Congress and WBCSD. POSCO signed an MOU with the Ministery for Food, Agriculture, Forestry and Fisheries (MIFAFF) to create marine resources, and plans to create Triton Marine Forests in 17 regions by 2014.
Artificial Reef
With the development of artificial reefs in 1988 for the first time in Korea, POSCO has committed the full-weight of its advanced steelmaking and marine environment technologies to develop and supply high-quality artificial reefs, an excellent way to create marine resources. The new artificial reef has a hemispheric octagonal structure and they come in three types: large-size offshore, medium-size littoral sea, and small-size coast. The hemispheric octagonal artificial reef can be used even in deep seawater and offers greater safety than that of the existing concrete one.
Restoration of Coral Reef
POSCO's technology to restore coral reefs delivers an effective response to marine climate change. It works to recover the marine ecosystem and ultimately reduce carbon dioxide by creating eco-friendly coral reefs with steel slag. POSCO has invested 4.5 billion won on the development of technology from 1998 to 2009 to commercialize it, and pursued the projects of restoration of coral reef and the marine ecosystem at the POSCO Indonesia plant for overseas business