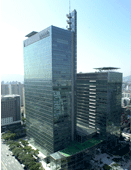 Just as human civilization and steel followed the same route of development, the path POSCO has walked down is inseparable from the history of Korea¡¯s economic growth. The dream of developing a steel industry in Korea started to come to light with the plan to construct a general steelworks in the 1960s. Despite starting from zero, with no capital, technology, or experience, the great journey towards establishing an integrated steelworks started with the founding of the Company on April 1st, 1968.
Employees curled up in the construction site office then called ¡®Rommel House¡¯ trying to get the little sleep they could and eating rice mixed with sand, with the strong will to become a country of steel. Starting with the first production line in Korea that produced 1.03 million tons of crude steel in 1973, Pohang Steelworks was completed in 1983 after four expansion projects producing 9.1 million tons of crude steel.
To fulfill rapidly increasing domestic steel demand in a high growth economy, POSCO took on a new challenge of bringing the myth of Yeongilman to Gwangyang-man. From starting construction of Gwangyang¡¯s first plant in 1985 until completion in 1992, the ocean was filled to build a cutting edge steelworks that offered streamlined processing from iron making and steel making, to rolling. Meanwhile, POSTECH and RIST (Research Institute of Industrial Science & Technology) were established to meet the needs of self-developed technology for technology independence, creating a firm connection between academia and the industry.
POSCO became the world¡¯s leading steel company in 1998 based on crude steel production through continuous efforts to increase facility efficiency and productivity, and established an integrated digital system through a business transformation in 1999 reorganizing all work processes from purchase, production to sales.
Privatized in 2000, POSCO started integrated steelworks construction in Indonesia and India to expand production bases overseas. Global leadership has been strengthened by developing innovative technologies such as FINEX and poStrip, overseas investment expanded to secure stable raw materials supply, and the ratio of high value added strategic product sales is rapidly increasing as well.
POSCO is also continuously placing efforts into make corporate governance transparent and innovation POSCO¡¯s unique corporate culture. Going a step further, POSCO is fulfilling its responsibility as a corporate citizen, not just focusing on economic profitability, but also striving for sustainable management that is balanced and harmonized with environmental soundness and social responsibility.
POSCO has created the great from nothing with a challenging spirit and power to take action to overcome limits, and led Korea¡¯s steel industry up to this day. With all POSCO Family companies, POSCO will continue to grow to achieve ¡®Global Top 100, 200 Trillion Sales¡¯ by 2020 and become a leading global company. At the same time, POSCO, by embodying the philosophy of being a loved company from stakeholders, will give ¡®dreams and hope,¡¯ ¡®provide materials and energy the most efficiently,¡¯ and be a ¡®company that makes the world better.¡¯